How can I make a complaint to the College?
The best and usually quickest way to resolve a complaint is by raising it at the college level.
The Education Department has a 4 level complaint management process.
Steps for raising your complaint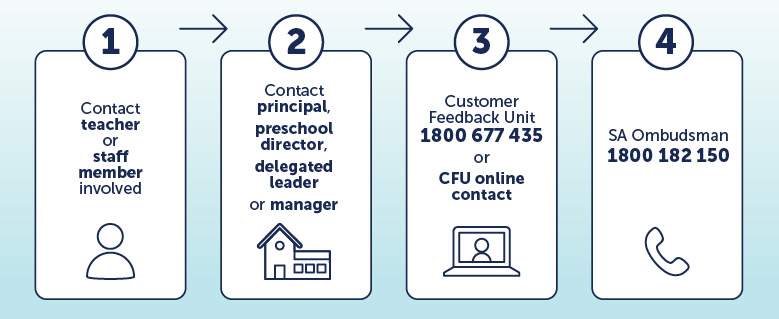 Level 1&2 – college
If a person is not happy with a decision made or action taken by the college they should first contact the original decision maker or educator involved to discuss the matter and raise their concerns directly. This might be a teacher, mentor, learning area leader, assistant principal or principal.
Level 3 – central complaint resolution
If a person is not satisfied that their complaint has been addressed at the college level, including the principal (or delegate), they can contact the Customer Feedback Unit (CFU).
The role of CFU is to give advice and support about the issues behind a complaint and to confirm if departmental policy and procedure has been followed. The CFU role is to liaise with schools to help all parties to explore appropriate options for resolution.
A complaint or feedback can be lodged to CFU by using the online submit a complaint form or by phone (free call) 1800 677 435.
Level 4 – external resolution
If all avenues to resolve the complaint by the department have been exhausted and the matter remains unresolved, a review or advice can be sought through the Ombudsman SA (OSA). The OSA is an independent body that investigates complaints about SA government. Contact the OSA on (08) 8226 8699. The circumstances of the complaint will influence whether the option of an external review is available.